Articles written for the theme park and pet industries
Great Pyramids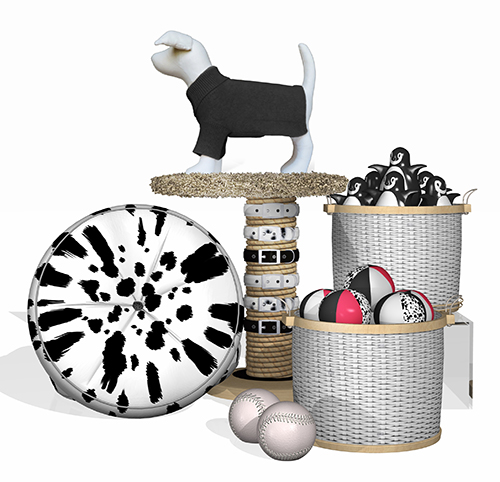 It doesn't take a professional visual person to do great window and in store displays.  The reality is anyone can do it.  Visual people all follow the same guidelines, which is how they're able to do great displays in very little time. You can make professional level displays yourself, if you just learn some of the basic rules.
With the exception of apparel, all merchandise visual is based on the "pyramid concept". Pyramids are used in windows, on tables and valances.
Arrange 3 pieces of product in a tiered configuration, with each item at a different level.  This is your pyramid; a tall central element with a two of three shorter items around it.  The build up has height and brings the display closer to eye level.  This is just the start, as you'll add additional items later to fill out the display.  But it's always the pyramid configuration you're going for.
A display needs to read from a distance.  Itsy-bitsy items create clutter, and aren't visually compelling.  They can be used however, if they are used in quantity – multiples create a larger visual presence.  You can also use risers to increase the height of a product. Simple risers are available from retail supply companies.  You can also use common items to serve the same purpose.  Crates and baskets are good choices, as are wrapped boxes. But keep it simple. You want the risers to be neutral, and not fighting for attention themselves.
Add 2 or 3 items to the original 3.  These will fill out the display.  The fewer items you have, the more impactful the message will be.  The key here is focus – don't add anything that isn't right on message.
It's okay to leave empty space on a display table or in a window.  Empty space is not wasted space; it's a frame for your display.  It also makes the product and store look organized and clean.
Always keep in mind that a display needs to tell a story.  The idea or concept is what makes impact.  Cleverly combining various items also promotes add-on purchases. 
Here are some concepts for dIsplays.
Valentines – this can be set up right after New Years.   Although it seems early, Valentines is really about love, and not a specific day.  Suspend cut out hearts above your display.  But you want to keep it simple and use 3 to 5 hearts maximum.
Think Pink!  Pull together pink items from different departments; collars, beds, and apparel. Use watering cans as props – make this your spring statement.
Senior pets.  Combine products for older animals like special foods, supplements and comfy beds.  Perhaps a bed full of supplements!
"Cats and fish", or "dogs and cats".  Pick up some plush animals from the local toy store to clearly define the characters involved.  What about a plush cat looking into an aquarium?
Winter.  A great way to sell coats and sweaters is to combine them with artificial snow, and maybe a little prop pine tree. 
An impactful display is as much about marketing as merchandising.   It's about  lifestyle, and a place to make product shine, whether it's seasonal items, or new arrivals.  And it's a dramatic way to communicate with your customers.  Make each visit to your store fresh and exciting.
Illustration captions:
A basic pyramid of dog food bags. Note the additional bags serving as risers.
Black and white is always impactful and says "fashion".    A scratching post makes a great framework for displaying product. 
Signs of the Times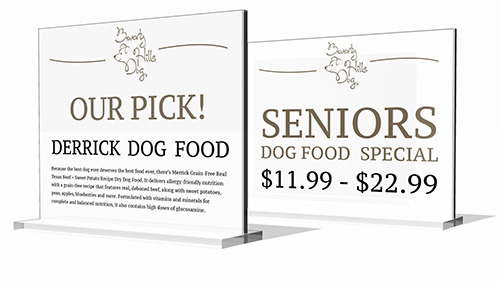 Signs are  your "silent salespeople", and say a lot about your store and brand.  You need to make a personable impression and your customers will appreciate any information you provide. You need a sign system that is consistent throughout the store.  Consistency  is important because you want the customer to focus on the sign's message, and not the sign presentation itself.   The goal is uniformity. To create a great sign program, just follow a few guidelines.
This article is specifically about merchandise signs – signs that sit on shelves, or attach to walls at eye level.
Create a template in Word, or another program, that you'll use as a guide for all your signs.  Your logo should be on the template and should be about the size of a quarter.   This personalization is what makes your store unique. For the font, choose something very readable – nothing fancy or childlike – legibility is crucial. I recommend Garamond or Arial, but the list of usable fonts is endless.   You'll  want to use  contrasting colors and I suggest black or red on a white background.  And print them on heavy paper.
Signs must be in sign holders.  Clear acrylic sign holders are available at Staples or any retail supply company.  Generally you'll want 4" x 6" sign holders for merchandise.   There are larger sizes available, and those would be useful for window displays, promotions, or information at the register about return policies, etc.  There are also small holders that clip onto shelves. 
You'll probably need some of each, and none of these are expensive. The signs themselves need to be free of tears, with no misspelled words and the acrylic holders should't have cracks or scrapes on them.
Price is always very important to the customer. In an area with many products, it's a good place for a list of multiple item prices,  as Macy's does with bedding.   Signs are also a good place to voice your opinions – customer's want to hear from you – you're the expert, after all.  "One of our favorites", or "We Recommend" are phrases that let your customer know an item is special.
No doubt you receive vendor point-of-purchase displays, or POPs. Sometimes they're cardboard – sometimes they're wire, and both are shipped with signage to attach in some way.  Don't use the sign.  Your store is unique, and you don't want to have the same POP everyone else has.  Use the POP as a fixture, and not as an ad for a vendor's brand.  If there's valuable information on the vendor sign, put that information on your own brand sign.
A word about transparent tape.  Don't use it.  Ever.  Tape looks sloppy and creates a very bad impression.  Again, don't use it!
Sometimes a store will use their storefront as a place to hang flyers.  Usually taped to the glass.  Very bad idea – this is the customer's first impression of the store and they need an unobstructed view into it.  Instead, create a community bulletin board inside. You'll see these at Starbuck's and elsewhere.  It's a good place for fliers, lost dog alerts, and other businesses you'd like to promote – say, vet's, trainers and groomers.  But these need to be businesses you believe in – not just anyone who wants to put up a flyer.
You can't provide too much information to your customers, and your opinion really matters to them.  For instance, there are so many kinds of dog food out there, and if you have a puppy, you have no idea what puppy food is best.  Let them know.

Hold a cup of coffee in the other hand, a fountain drink , a child's hand, a dog's leash; you get the idea.    But never use that hand.  Choose stores you're interested in.  Shop a Macy's , a Gap, a Target, or fill-in-the-blank. 
Look through apparel, folded shirts, higher face outs.  Look for your size.  Shop hard lines as well.  Are the prices clearly marked?  Can you reach everything?  Do you have to reach over one item to get to another?   Pick up something expensive; china or glassware.   And refold a shirt with one hand.
Then do the same thing in your store.
Afterward, ask yourself these questions.  Did you have to rummage through shirts on a table to find your size?  Did you find you size easily on a face out or on a sale fixture.  Were prices clearly marked?  Were you able to navigate the store easily?  
Many of your guests have only one hand to shop with.   They're holding a drink, a child, (perhaps a fussy one), a bag, etc.  Can they easily find their size on tables and face outs, the prices, did they have to rummage through a table for a size?  Were they able to refold a shirt – did they even try?  Did anything fall down from a shelf or a face out they had do pick up.  Did they need to reach over one product to find another?  Were there plenty of room for them and a child?
A store should be merchandised with this in mind.  If you can shop your store with one hand, then you're a great merchant – probably better than a Macy's or Gap, and there is nothing more to do.  But if you can't, you should re-merchandise with this in mind.  A guest can easily get frustrated, and walk away.  If a guest has to rummage through folded shirts to find their size, A) it will create more work for you and B) they don't want to create more work for you – they don't want to mess us your display.  And they may walk.  If something is stacked precariously, something may fall, and they'll need to pick it up –and they'll be embarrassed and they don't want to create more work for you.   They may walk.
That other hand may also be fighting for their attention.  The coffee may be very hot or the cup may be over full or both.  A child may be pulling them away, wanting to leave. 
The only time a guest should need two hands is when they take out their wallet. 

We're the experts.  We're great buyers, great merchandisers, great planners, and great operators – we're the experts on retail.
Wrong.
The customer is the expert.  They shop everywhere – the Gaps, the Targets, the Macy's. That's what we're up against.  How do we measure up?  Are our stores as organized as a Target?  Merchandised as well as a Macy's. Is our product sized and folded as well as a Gap?  Are our stores visually enticing
The customer makes snap decisions about us based on what they've seen elsewhere; on/off – yes/no – good/bad.  In a couple of seconds.  After all, we make snap judgments all the time; about people, about places, about movies, about what interests us and what doesn't.  It's in our DNA.  When you look at your store think about what snap judgments are being made.  Stand outside, at least 20 feet away, and look at your store front.  What is immediately obvious? Is the store organized, merchandised well, does it look tidy?  Is it clear what you believe in?  Is it clear what you sell?  Do you see major statements? Do you want to go inside? The customer makes these decisions in a few seconds; in a glance. 
As merchants we tend to focus on what happens inside the store.  But once the customer is in the store, we've already achieved our goal. We've already won! 
The customers in the store are not the ones we need to entice. We want the people who aren't particularly interested in what we sell.  We want the people who don't come into our stores.  We need to get them interested.  That's the challenge.  From 20 feet away, you are dependent on that very hasty decision; on/off – yes/no – good/bad.
Of course, the customer's are making the same snap judgments at the front door and once they're in the store.  When a customer can't find their size, if the product on a wall is random or if a hand written sign is taped to a fixture, we look like amateurs.  Like we haven't shopped Gap, or Macy's, or Target. These are the stores we're compared to; on/off – yes/no – good/bad.
Snap!
On the Grid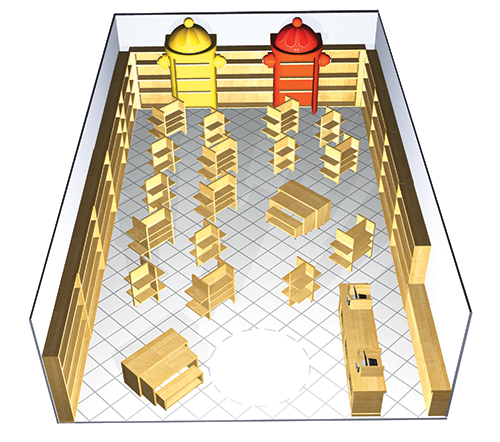 Your merchandising fixture placement is critical. A well thought out plan will make your store easier to shop, and create a clean, organized look.
Lay them out on a grid pattern, with each fixture at the same angle. There should be a minimum of 4' between them. Think in terms of getting a double stroller through. You want a 6' diameter space at the entrance to the store to serve as a decompression zone. The customer can stop and see the whole store before deciding what direction to go in. And main aisles should be about 6' wide. Use fixtures that are about 4 1/2' tall. The merchandise should not protrude above the top. Simple displays or signs can be an exception to this, but don't obscure the view of one fixture by blocking it with another.
Fixtures that are too close together, or randomly organized, create a claustrophobic environment. Not only is it unpleasant for the customer, but will also effect sales. People need to be able to see everything on a fixture without bending down. If fixtures are too close to walls, it will make customers shop the fixtures, instead of the walls. And walls are more important, as they house more product, and create much larger merchandise groups, or stories.
Fixtures are something to spend a little money on. The nicer the fixture, the nicer your product will look. And you want to look different than the big-box stores like Pet Smart, even though the product may be the same. White fixtures are common, but I prefer light wood looks. They create a warmer environment and are still neutral.
Use vendor fixtures when absolutely necessary, but generally you want to avoid them. Only use them for products that don't merchandise well on your standard fixtures. Book rack spinners are a good example of this, as they house a lot of product in a small amount of space.
Think of your fixtures as a canvas for your merchandise. With a clean fixture layout, your store will look organized, and the merchandise will be the star.